Our Solution:
One of a Kind,

Just Like You
Ankura InterXeptor™ was designed for the middle market. We get to know the unique risk profile of each of our clients and build a custom solution to fit their needs. We're a security partner, not just a vendor.
We understand that growing middle market companies experience a disproportionate impact from industry-wide resource pressures. Cybersecurity budgets are stretched to maintain adequate data security in a rapidly changing threat landscape. Staff turnover, technology advancements, and evolving threat actor techniques make it impossible for many middle market firms to keep pace.
We think most Managed Detection and Response (MDR) providers work for larger, well-resourced security teams but haven't done enough to directly and comprehensively address the unique security pressure points faced by businesses like yours.
Coronet 2022 survey of middle market companies
"During the pandemic, naive attacks dropped by 21% while the more sophisticated methodologies, including targeted and customized attacks, as well as insider threats, each expanded geometrically in popularity among cybercriminals."
72% of middle market companies think that unauthorized users will attempt to access their data or systems in 2022, up from 64% in 2021.
– RSM 2022 Cybersecurity Special Report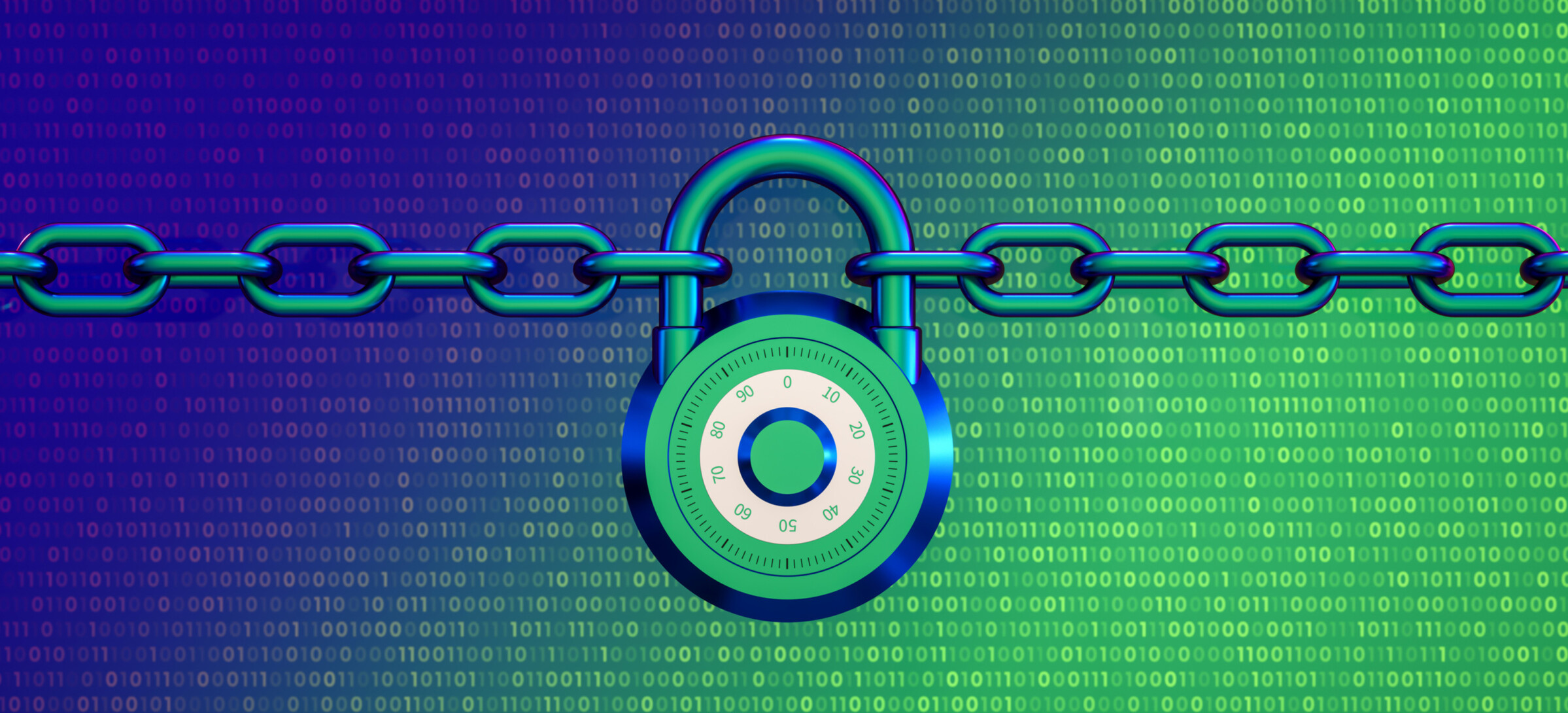 What Keeps You Up at Night?
Are you worried about increased cybersecurity risks arising from a merger, acquisition, geographic expansion, or a rapid rise in headcount? Do you feel confident you understand the threat exposure arising from your reliance on SaaS applications? Do you feel prepared to respond to a cybersecurity incident if it happens? Are you trying to figure out how to prevent cyberattacks with a lower budget? Do you have cybersecurity insurance? If you do, does it cover everything you need? Have your compliance obligations changed?
See How Ankura InterXeptor Can Help Your Company Stay Safe While You Grow
Each company's cybersecurity risk profile is unique. So why settle for a "one-size-fits-all" approach to MDR? Our Ankura InterXeptor experts will partner with you to design a right-sized solution that supports continued growth, safe from attacks. We bring best-of-breed technology operated by experienced threat detection and response analysts to provide peace of mind. And if an attack occurs, Ankura's world-class incident response team is at the ready to coordinate an effective plan to repel the threat before it affects operations or data integrity.
What this means:
Ankura InterXeptor makes it easier for you to reduce fixed costs and technology lock-in in favor of adaptive solutions that meet your evolving security needs.
You don't have to maintain in-house incident response capabilities or sign up with an IR provider that doesn't know you.
You'll get the most from your security tech investments. We will optimize your security stack effectiveness.
We'll continuously evaluate the coverage, fit, and impact of our service to ensure optimal value and delivery quality, timeliness, and accuracy.
When we customize your solution, our Ankura InterXeptor team will consider a full range of best-in-class XDR cybersecurity technology and vet it for performance against your company's needs. From endpoints to the cloud, and across your entire infrastructure, Ankura InterXeptor will leverage an optimized mix of tools and practices best suited to your business.
What this translates to:
Ankura InterXeptor offers sophisticated threat detection engineering with contextual threat analytics.
We provide 24/7 SOC support that drastically reduces detection time and streamlines response.
Our advanced threat analysts and incident response experts are available for you whenever you need them.
We give you highly relevant, timely, and curated threat intelligence from leading commercial and open source platforms as well as proprietary indicators collected by our incident response and threat hunting teams.
Business growth comes with increased cyber risk, but we're with you every step of the way. From the start, we make sure your solution integrates seamlessly with your existing teams and operations. And we're always thinking ahead to make sure your cybersecurity program can scale to support future plans.
Because of this approach, Ankura InterXeptor can:
Augment and reduce pressure on your internal team if you have a shortage of qualified cybersecurity experts, lowering your costs as well as your risk.
Continuously adapt to your evolving technology stack and distributed IT infrastructure.
Optimize existing tools and orchestrate analysis of cybersecurity event data.
Don't settle for a "plug-and-play" provider. Ankura offers consultation on your solution performance 365 days a year, sharing security and threat expertise to enhance your team's security knowledge.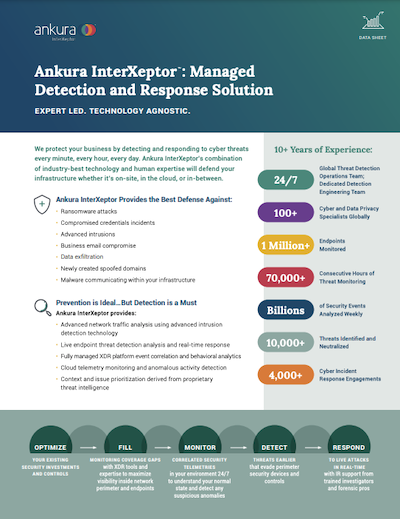 Ankura InterXeptor: Managed Detection and Response Solution. Expert-led. Technology agnostic.
Continuous threat detection. Real-time response. Download the Ankura InterXeptor Data Sheet to learn more about our solution options, qualifications, and threat detection model.